Xbox Live Spring Sales and Deals with Gold (Apr 11 – Apr 17)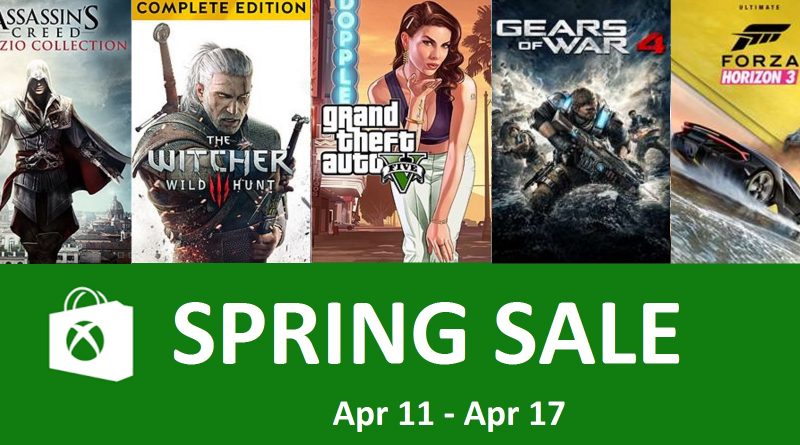 Microsoft is running Spring Sales from April 11th to April 17th, and around 350 games are up to 67%  discounted. For Xbox Live Gold subscribers there are further 10% discounts on already discounted prices. Along with games, there are discounts on movies and music as well.
Also, Xbox Designer Lab controllers has a discount of $15.
Featured Deals
Jump List:
This I believe is one of the best gifts for an Xbox fan. And if you want to get it for yourself then it's the best time, with $15 off. There's an option to engrave your name, gamer tag or any custom text on the controller, for more personalized controller.
The controller included is the new controller that can also be used for gaming on a Windows 10 PC via Bluetooth (no adapter needed).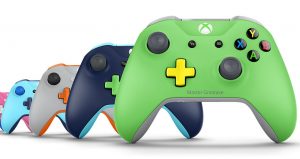 Xbox One Digital Games
| | | |
| --- | --- | --- |
| Game | Price (USD) | |
| | $ 8.49 | Price with Gold |
| | $ 74.99 | Price with Gold |
| | $ 11.24 | Price with Gold |
| | $ 27.49 | Price with Gold |
| | $ 15.99 | Price with Gold |
| | $ 149.99 | Price with Gold |
| | $ 16.74 | Price with Gold |
| | $ 4.24 | Price with Gold |
| | $ 39.99 | Price with Gold |
| | $ 23.99 | Price with Gold |
| | $ 12.00 | Price with Gold |
| | $ 5.99 | Price with Gold |
| | $ 13.39 | Price with Gold |
| | $ 11.99 | Price with Gold |
| | $ 14.00 | Price with Gold |
| | $ 10.00 | Price with Gold |
| | $ 20.00 | Price with Gold |
| | $ 28.00 | Price with Gold |
| | $ 29.99 | Price with Gold |
| | $ 29.70 | Price with Gold |
| | $ 25.00 | Price with Gold |
| | $ 15.00 | Price with Gold |
| | $ 14.99 | |
| | $ 5.00 | Price with Gold |
| | $ 1.80 | Price with Gold |
| | $ 10.49 | Price with Gold |
| | $ 10.00 | Price with Gold |
| | $ 16.00 | Price with Gold |
| | $ 8.00 | Price with Gold |
| | $ 4.00 | Price with Gold |
| | $ 35.99 | Price with Gold |
| | $ 75.00 | Price with Gold |
| | $ 47.99 | Price with Gold |
| | $ 77.99 | Price with Gold |
| | $ 30.00 | Price with Gold |
| | $ 19.80 | Price with Gold |
| | $ 25.00 | Price with Gold |
| | $ 35.99 | Price with Gold |
| | $ 59.99 | Price with Gold |
| | $ 74.99 | Price with Gold |
| | $ 55.99 | Price with Gold |
| | $ 38.99 | Price with Gold |
| | $ 60.49 | Price with Gold |
| | $ 77.99 | Price with Gold |
| | $ 10.04 | Price with Gold |
| | $ 319.99 | Price with Gold |
| | $ 10.00 | Price with Gold |
| | $ 15.60 | Price with Gold |
| | $ 3.30 | Price with Gold |
| | $ 7.50 | Price with Gold |
| | $ 12.00 | Price with Gold |
| | $ 16.00 | Price with Gold |
| | $ 10.00 | Price with Gold |
| | $ 2.50 | Price with Gold |
| | $ 10.00 | Price with Gold |
| | $ 10.00 | Price with Gold |
| | $ 11.99 | Price with Gold |
| | $ 10.00 | Price with Gold |
| | $ 29.75 | Price with Gold |
| | $ 4.50 | Price with Gold |
| | $ 30.00 | Price with Gold |
| | $ 18.00 | Price with Gold |
| | $ 27.00 | Price with Gold |
| | $ 19.80 | Price with Gold |
| | $ 30.00 | Price with Gold |
| | $ 10.00 | Price with Gold |
| | $ 5.99 | Price with Gold |
| | $ 35.99 | Price with Gold |
| | $ 23.99 | Price with Gold |
| | $ 9.25 | Price with Gold |
| | $ 32.99 | Price with Gold |
| | $ 58.49 | Price with Gold |
| | $ 24.89 | Price with Gold |
| | $ 2.00 | Price with Gold |
| | $ 6.99 | Price with Gold |
| | $ 10.04 | Price with Gold |
| | $ 10.04 | Price with Gold |
| | $ 26.79 | Price with Gold |
| | $ 26.79 | Price with Gold |
| | $ 3.00 | Price with Gold |
| | $ 24.00 | Price with Gold |
| | $ 19.80 | Price with Gold |
| | $ 29.99 | Price with Gold |
| | $ 5.99 | Price with Gold |
| | $ 2.99 | Price with Gold |
| | $ 55.00 | Price with Gold |
| | $ 14.99 | Price with Gold |
| | $ 11.99 | Price with Gold |
| | $ 2.99 | Price with Gold |
| | $ 2.99 | Price with Gold |
| | $ 27.50 | Price with Gold |
| | $ 29.99 | Price with Gold |
| | $ 44.99 | Price with Gold |
| | $ 29.74 | Price with Gold |
| | $ 24.00 | Price with Gold |
| | $ 32.00 | Price with Gold |
| | $ 69.99 | Price with Gold |
| | $ 48.99 | Price with Gold |
| | $ 69.99 | Price with Gold |
| | $ 44.99 | Price with Gold |
| | $ 14.99 | |
| | $ 26.24 | |
| | $ 38.99 | |
| | $ 59.99 | |
| | $ 41.99 | Price with Gold |
| | $ 29.99 | Price with Gold |
| | $ 45.00 | Price with Gold |
| | $ 6.00 | Price with Gold |
| | $ 29.99 | |
| | $ 59.99 | |
| | $ 16.00 | Price with Gold |
| | $ 10.00 | Price with Gold |
| | $ 4.95 | Price with Gold |
| | $ 3.34 | Price with Gold |
| | $ 4.00 | Price with Gold |
| | $ 3.34 | Price with Gold |
| | $ 3.34 | Price with Gold |
| | $ 30.00 | Price with Gold |
| | $ 40.00 | Price with Gold |
| | $ 64.00 | Price with Gold |
| | $ 44.00 | Price with Gold |
| | $ 6.99 | Price with Gold |
| | $ 20.00 | Price with Gold |
| | $ 30.14 | Price with Gold |
| | $ 59.99 | Price with Gold |
| | $ 15.99 | Price with Gold |
| | $ 38.99 | Price with Gold |
| | $ 51.99 | Price with Gold |
| | $ 30.00 | Price with Gold |
| | $ 5.00 | Price with Gold |
| | $ 11.24 | Price with Gold |
| | $ 15.00 | Price with Gold |
| | $ 21.12 | Price with Gold |
| | $ 6.25 | Price with Gold |
| | $ 4.68 | Price with Gold |
| | $ 23.99 | Price with Gold |
| | $ 10.00 | Price with Gold |
| | $ 5.00 | Price with Gold |
| | $ 7.25 | Price with Gold |
| | $ 5.00 | Price with Gold |
| | $ 12.00 | Price with Gold |
| | $ 4.00 | Price with Gold |
| | $ 6.00 | Price with Gold |
| | $ 20.09 | Price with Gold |
| | $ 5.00 | Price with Gold |
| | $ 10.00 | Price with Gold |
| | $ 13.39 | Price with Gold |
| | $ 10.00 | Price with Gold |
| | $ 5.00 | Price with Gold |
| | $ 30.00 | Price with Gold |
| | $ 29.99 | |
| | $ 5.00 | Price with Gold |
| | $ 6.00 | Price with Gold |
| | $ 5.00 | Price with Gold |
| | $ 10.00 | Price with Gold |
| | $ 8.00 | Price with Gold |
| Minecraft: Story Mode – Adventure Pass (Additional Episodes 6-8) | $ 4.00 | Price with Gold |
| | $ 8.00 | Price with Gold |
| | $ 10.00 | Price with Gold |
| | $ 8.00 | Price with Gold |
| | $ 23.99 | Price with Gold |
| | $ 5.00 | Price with Gold |
| | $ 19.49 | Price with Gold |
| | $ 37.49 | Price with Gold |
| Naruto Shippuden: Ultimate Ninja Storm 4 Road To Boruto Pack | $ 14.99 | Price with Gold |
| | $ 6.60 | Price with Gold |
| | $ 30.00 | Price with Gold |
| | $ 51.99 | Price with Gold |
| | $ 59.99 | Price with Gold |
| | $ 15.00 | Price with Gold |
| | $ 15.00 | Price with Gold |
| | $ 19.80 | Price with Gold |
| | $ 26.40 | Price with Gold |
| | $ 50.00 | Price with Gold |
| | $ 6.99 | Price with Gold |
| | $ 7.50 | Price with Gold |
| | $ 3.25 | Price with Gold |
| | $ 10.04 | Price with Gold |
| | $ 27.88 | Price with Gold |
| | $ 19.80 | Price with Gold |
| | $ 10.00 | Price with Gold |
| | $ 10.19 | Price with Gold |
| | $ 38.99 | Price with Gold |
| | $ 7.79 | Price with Gold |
| | $ 20.00 | Price with Gold |
| | $ 16.50 | Price with Gold |
| | $ 10.00 | Price with Gold |
| | $ 3.30 | Price with Gold |
| | $ 5.00 | |
| | $ 25.00 | Price with Gold |
| | $ 11.24 | Price with Gold |
| | $ 2.25 | Price with Gold |
| | $ 5.00 | Price with Gold |
| | $ 20.99 | Price with Gold |
| | $ 12.00 | Price with Gold |
| | $ 12.00 | Price with Gold |
| | $ 6.25 | Price with Gold |
| | $ 24.00 | Price with Gold |
| | $ 299.99 | Price with Gold |
| | $ 19.99 | |
| | $ 10.04 | Price with Gold |
| | $ 9.99 | |
| | $ 13.39 | Price with Gold |
| | $ 6.60 | Price with Gold |
| | $ 11.24 | Price with Gold |
| | $ 7.50 | Price with Gold |
| | $ 6.00 | Price with Gold |
| | $ 14.99 | |
| | $ 7.50 | Price with Gold |
| | $ 13.20 | Price with Gold |
| | $ 8.49 | Price with Gold |
| | $ 74.99 | Price with Gold |
| | $ 15.99 | Price with Gold |
| | $ 149.99 | Price with Gold |
| | $ 4.24 | Price with Gold |
| | $ 39.99 | Price with Gold |
| | $ 15.00 | Price with Gold |
| | $ 9.90 | Price with Gold |
| | $ 30.00 | Price with Gold |
| | $ 43.99 | Price with Gold |
| | $ 7.50 | Price with Gold |
| | $ 9.90 | Price with Gold |
| | $ 16.50 | Price with Gold |
| | $ 4.00 | Price with Gold |
| | $ 6.60 | Price with Gold |
| | $ 6.00 | Price with Gold |
| | $ 2.50 | Price with Gold |
| | $ 6.00 | Price with Gold |
| | $ 23.99 | Price with Gold |
| | $ 30.00 | Price with Gold |
| | $ 9.90 | Price with Gold |
| | $ 7.87 | Price with Gold |
| | $ 5.00 | Price with Gold |
| | $ 12.50 | Price with Gold |
| | $ 6.00 | Price with Gold |
| | $ 10.00 | Price with Gold |
| | $ 66.99 | Price with Gold |
| | $ 33.00 | Price with Gold |
| | $ 16.50 | Price with Gold |
| The Walking Dead: A New Frontier – The Complete Season (Episodes 1-5) | $ 18.74 | Price with Gold |
| | $ 7.50 | Price with Gold |
| | $ 7.50 | Price with Gold |
| | $ 11.99 | Price with Gold |
| | $ 25.00 | Price with Gold |
| | $ 5.99 | Price with Gold |
| | $ 14.99 | Price with Gold |
| | $ 5.00 | Price with Gold |
| | $ 9.00 | Price with Gold |
| | $ 30.00 | Price with Gold |
| | $ 40.00 | Price with Gold |
| | $ 25.00 | Price with Gold |
| | $ 35.00 | Price with Gold |
| | $ 47.99 | Price with Gold |
| | $ 7.50 | Price with Gold |
| | $ 2.50 | Price with Gold |
| | $ 16.00 | Price with Gold |
| | $ 16.00 | Price with Gold |
| | $ 7.50 | Price with Gold |
| Trials Of The Blood Dragon + Trials Fusion Awesome Max Edition | $ 18.00 | Price with Gold |
| | $ 47.99 | Price with Gold |
| | $ 8.70 | Price with Gold |
| | $ 29.99 | |
| | $ 6.99 | |
| | $ 54.99 | |
| | $ 75.00 | |
| | $ 12.99 | |
| | $ 16.00 | Price with Gold |
| | $ 30.00 | Price with Gold |
| | $ 35.00 | Price with Gold |
| | $ 50.00 | Price with Gold |
| | $ 6.60 | Price with Gold |
| | $ 6.60 | Price with Gold |
| | $ 17.99 | Price with Gold |
| | $ 30.00 | Price with Gold |
| | $ 37.50 | Price with Gold |
| | $ 2.50 | Price with Gold |
Xbox 360 Backwards Compatible with Xbox One
Xbox 360 Deals