PlayStation Network Deals for this week (till May 16th)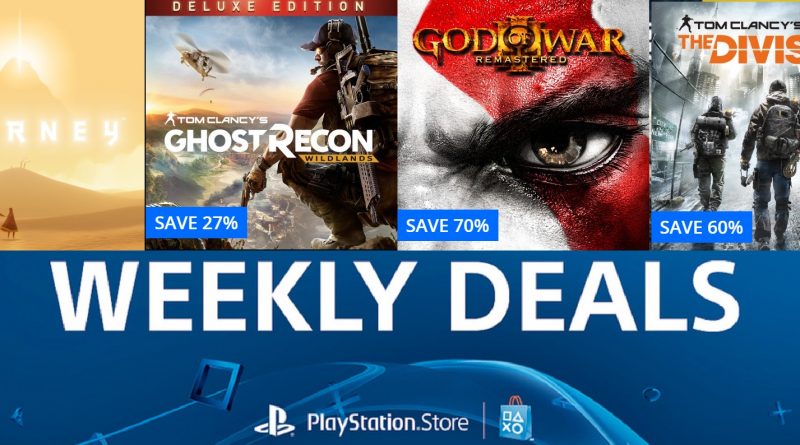 This week's deals for PS4, PS3 and Vita are up and live on PSN. These deals are valid from now till 16th of May.
There are deals from two publishers during the featured sales on PSN this week. The first of these is from Santa Monica Studios, and another from Ubisoft.
Following is a list of games on sale this week for PS4. For PS3 and Vita go to the full list on PlayStation Store.
PS4 Deals
Santa Monica Studios PS4 Deals
| Game | Price |
| --- | --- |
| Avant-Garde Bundle (Journey, Flower, The Unfinished Swan, Bound) | $24.99 |
| Classics PS4 Bundle (Kinetica, Twisted Metal: Black, War of the Monsters) | $7.99 |
| The Rhythmic Bundle (Hohokum, Sound Shapes) | $4.94 |
| Bound | $10.99 |
| Escape Plan PS Vita/PS4 Cross buy | $6.99 |
| Escape Plan PS4 | $6.99 |
| Escape Plan Ultimate | $7.49 |
| Everybody's Gone to the Rapture | $4.99 |
| Fat Princess Adventures | $2.49 |
| flOw PS3, PS4, PSVita Cross buy | $2.99 |
| flOw PS4 | $2.99 |
| Flower PS4 | $3.49 |
| God of War III Remastered | $5.99 |
| Here They Lie | $10.99 |
| Hohokum | $3.99 |
| Journey | $5.99 |
| Journey Collector's Edition | $12.49 |
| Kinetica | $3.99 |
| Sound Shapes Ultimate Bundle | $9.99 |
| The Order: 1886 | $3.99 |
| The Unfinished Swan | $5.99 |
| Twisted Metal: Black | $2.49 |
| War of the Monsters | $3.49 |
Ubisoft PS4 Deals