Xbox Spring Sales Apr 10th – Apr 17th 2018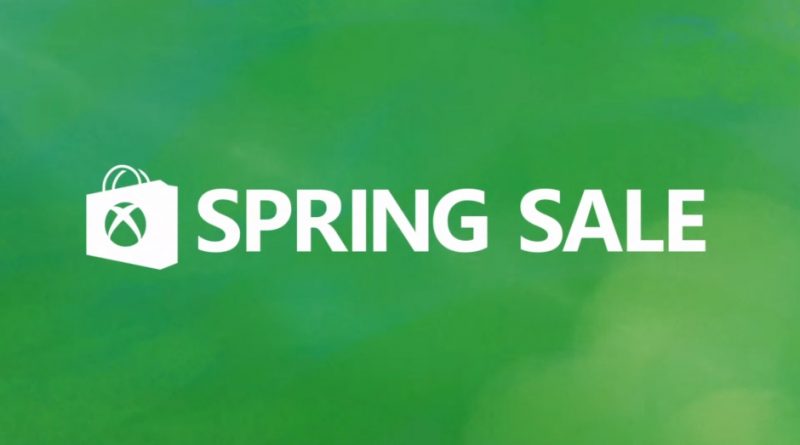 Second phase of Xbox Live Spring Sales for this year is now live. These games are on sale till 17th of this month.
Please note that below prices are for Gold users, but non gold users also have similar sales but at slightly higher prices.
| | | | | | | |
| --- | --- | --- | --- | --- | --- | --- |
| Game | Discount | USD | GBP | CAD | AUD | EUR |
| 7 Days To Die – Action Pack | 50% | $1.00 | £0.80 | $1.00 | $1.33 | 1,00€ |
| 7 Days To Die – The Detention Squad | 50% | $1.00 | £0.80 | $1.00 | $1.33 | 1,00€ |
| 7 Days To Die – The Walking Dead Skin Pack | 50% | $1.00 | £0.80 | $1.00 | $1.33 | 1,00€ |
| 7 Days To Die – The Walking Dead Skin Pack 2 | 50% | $1.00 | £0.80 | $1.00 | $1.33 | 1,00€ |
| 7 Days To Die – The Walking Dead Skin Pack Bundle | 50% | $1.50 | £1.20 | $1.50 | $1.98 | 1,50€ |
| Agents Of Mayhem – Bombshells Skins Pack | 20% | $1.59 | £1.27 | $1.59 | $2.12 | 1,59€ |
| Agents Of Mayhem – Carnage A Trois Skins Pack | 20% | $1.59 | £1.27 | $1.59 | $2.12 | 1,59€ |
| Agents Of Mayhem – Firing Squad Skins Pack | 20% | $1.59 | £1.27 | $1.59 | $2.12 | 1,59€ |
| Agents Of Mayhem – Johnny Gat Agent Pack | 40% | $2.99 | £2.39 | $2.99 | $3.99 | 2,99€ |
| Agents Of Mayhem – Lazarus Agent Pack | 40% | $2.99 | £2.39 | $2.99 | $3.99 | 2,99€ |
| Agents Of Mayhem – Safeword Agent Pack | 40% | $2.99 | £2.39 | $2.99 | $3.99 | 2,99€ |
| Agents Of Mayhem – Total Mayhem Bundle | 75% | $12.50 | £10.00 | $17.50 | $17.49 | 12,50€ |
| APB Reloaded: 816 G1C | 10% | $8.99 | £7.19 | $10.79 | – | 8,99€ |
| APB Reloaded:1,680 G1C | 10% | $17.99 | £14.39 | $22.49 | – | 17,99€ |
| APB Reloaded:3,052 G1C | 10% | $31.49 | £25.19 | $37.79 | – | 31,49€ |
| APB Reloaded: 9,600 G1C | 20% | $79.99 | £51.99 | $95.99 | – | 79,99€ |
| Ark: Aberration | 15% | $16.99 | £13.59 | $16.99 | $22.91 | 16,99€ |
| Ark: Scorched Earth | 30% | $13.99 | £11.19 | $13.99 | $18.87 | 13,99€ |
| Ark: Survival Evolved | 40% | $35.99 | £29.99 | $47.99 | $53.97 | 41,99€ |
| Ark: Survival Evolved Explorer's Edition | 40% | $59.99 | £50.99 | $71.99 | $83.97 | 59,99€ |
| Ark: Survival Evolved Season Pass | 30% | $31.49 | £25.19 | $31.49 | $41.97 | 31,49€ |
| Assassin's Creed IV Black Flag – Season Pass | 75% | $5.00 | £4.00 | $5.00 | $6.74 | 5,00€ |
| Assassin's Creed Origins – Season Pass | 30% | $27.99 | £22.49 | $34.99 | $41.97 | 29,99€ |
| Assassin's Creed Syndicate – Season Pass | 67% | $9.90 | – | – | – | – |
| Batman: Arkham Knight Season Pass | 50% | $10.00 | £16.40 | – | – | – |
| Batman: The Enemy Within – Season Pass (Episodes 2-5) | 40% | $11.99 | £11.99 | $14.39 | $21.63 | – |
| Battlefield 1 Heroes Of The Great War Bundle | 70% | $7.50 | £6.00 | $9.90 | $10.04 | – |
| Battlefield 1 Premium Pass | 75% | $12.50 | £10.00 | $16.25 | $17.49 | – |
| Battlefield 1 Shortcut Kit: Ultimate Bundle | 35% | $25.99 | £20.79 | $33.79 | – | – |
| Battlefield 4 Premium | 75% | $12.50 | £10.00 | $12.50 | $17.49 | 12,50€ |
| Battlefield 4 Ultimate Shortcut Bundle | 75% | $12.50 | £10.00 | – | – | – |
| Battlefield Hardline Premium | 75% | $12.50 | – | – | – | – |
| Battlefield Hardline Ultimate Edition | 67% | $19.80 | £23.10 | $26.40 | $39.50 | 29,70€ |
| Call Of Duty: Black Ops III – Season Pass | 40% | $29.99 | £20.99 | $29.99 | $38.97 | 29,99€ |
| Call Of Duty: Black Ops III – Zombies Chronicles | 35% | $19.49 | £16.24 | $25.99 | $29.22 | 19,49€ |
| Call Of Duty: Black Ops III – Zombies Chronicles Edition | 35% | $38.99 | £35.74 | $51.99 | $64.97 | 45,49€ |
| Call Of Duty: Black Ops III – Zombies Deluxe | 35% | $64.99 | £51.99 | $84.49 | $97.79 | 64,99€ |
| Call Of Duty: Black Ops III: 9,500 Points | 15% | $63.74 | – | $63.74 | – | – |
| Call Of Duty: Infinite Warfare: 9,500 Points | 15% | $63.74 | £54.39 | – | – | – |
| Call Of Duty: Modern Warfare Remastered: 9,500 Points | 15% | $63.74 | £54.39 | $84.99 | $96.01 | – |
| Call Of Duty: MW Remastered: Variety Map Pack | 50% | $7.50 | £5.80 | $10.00 | $9.98 | – |
| Call Of Duty: WWII – Season Pass | 20% | $39.99 | £31.99 | $55.99 | $51.96 | 39,99€ |
| Call Of Duty: WWWII: 9,500 Points | 15% | $63.74 | £54.39 | $84.99 | $96.01 | – |
| Carmageddon: Max Damage – Iron Hawk Pack | 50% | $2.00 | £1.40 | – | – | – |
| Carmageddon: Max Damage – Tez Eagle Pack | 50% | $2.00 | £1.40 | – | – | – |
| Cities: Skylines – Season Pass | 30% | $27.99 | £22.39 | $27.99 | $36.72 | 27,99€ |
| Cities: Skylines – Snowfall | 30% | $9.09 | £7.27 | $9.09 | $12.08 | 9,09€ |
| Dead By Daylight: Head Case | 50% | $2.00 | £1.60 | – | – | 2,00€ |
| Dead By Daylight: Leatherface | 50% | $2.50 | £2.00 | – | – | 2,50€ |
| Dead By Daylight: The Halloween Chapter | 50% | $4.00 | £3.20 | – | – | – |
| Dead By Daylight: The Saw Chapter | 33% | $5.35 | – | – | – | – |
| Dead Rising 4 Season Pass | 60% | $8.00 | – | – | – | – |
| Destiny 2 – Expansion Pass | 15% | $29.74 | £25.49 | $42.49 | $42.46 | – |
| Deus Ex: Mankind Divided – Season Pass | 70% | $4.50 | – | $6.00 | $6.83 | – |
| Diablo III: Rise Of The Necromancer | 35% | $9.74 | £8.31 | – | – | – |
| Dragon Ball Xenoverse 2 – Extra Pack 1 | 40% | $5.99 | £4.79 | $7.79 | $8.97 | 5,99€ |
| Dragon Ball Xenoverse 2 – Extra Pack 2 | 20% | $7.99 | £6.39 | $10.39 | $11.96 | 7,99€ |
| Dragon Ball Xenoverse 2 – Extra Pack Set | 40% | $10.19 | £8.39 | $11.99 | $15.33 | 10,19€ |
| Elite Dangerous: Horizons Season Pass | 40% | $17.99 | – | – | – | – |
| Euro Fishing: Foundry Dock | 60% | $4.40 | £3.60 | $4.40 | $5.98 | 4,40€ |
| Euro Fishing: Foundry Dock + Season Pass | 50% | $23.00 | £18.40 | $23.00 | $30.48 | 23,00€ |
| Euro Fishing: Le Lac D'or | 50% | $5.50 | £4.50 | $5.50 | $7.48 | 5,50€ |
| Euro Fishing: Manor Farm Lake | 50% | $5.50 | £4.50 | $5.50 | $7.48 | 5,50€ |
| Euro Fishing: Season Pass | 50% | $18.00 | £14.40 | $18.00 | $23.23 | 18,00€ |
| Euro Fishing: Urban Edition | 50% | $12.50 | £10.00 | $12.50 | $16.73 | 12,50€ |
| Euro Fishing: Urban Edition + Season Pass | 50% | $30.00 | £22.50 | $30.00 | $39.98 | 30,00€ |
| Evolve Digital Deluxe | 75% | $10.00 | £7.50 | $10.00 | $6.24 | 7,50€ |
| Evolve Hunting Season 1 | 60% | $6.00 | – | – | – | – |
| Evolve Hunting Season 2 | 60% | $10.00 | £8.00 | – | – | – |
| Fallout 4 Season Pass | 40% | $29.99 | £23.99 | $41.99 | $47.97 | 29,99€ |
| Fallout 4: Automatron | 40% | $5.99 | £4.79 | $8.39 | $8.97 | 5,99€ |
| Fallout 4: Contraptions Workshop | 40% | $2.99 | £2.39 | $4.19 | $3.99 | 2,99€ |
| Fallout 4: Far Harbor | 40% | $14.99 | £11.99 | $20.99 | $17.97 | 14,99€ |
| Fallout 4: Nuka-World | 40% | $11.99 | £8.99 | $17.99 | $17.97 | 11,99€ |
| Fallout 4: Vault-Tec Workshop | 40% | $2.99 | £2.39 | $4.19 | $3.99 | 2,99€ |
| Fallout 4: Wasteland Workshop | 40% | $2.99 | £2.39 | $4.19 | $3.99 | 2,99€ |
| Far Cry 4 Season Pass | 67% | $9.90 | £7.92 | $9.90 | $13.18 | 9,90€ |
| For Honor Season Pass | 50% | $20.00 | £15.00 | $20.00 | $29.98 | 20,00€ |
| Gears Of War 4 Season Pass | 50% | $24.99 | £20.87 | – | – | – |
| Halo Wars 2 Season Pass | 50% | $15.00 | – | – | – | – |
| Halo Wars 2: Awakening The Nightmare | 30% | $13.99 | £10.49 | – | – | – |
| Halo Wars 2: Complete Edition | 50% | $30.00 | £24.87 | $40.00 | $47.48 | 35,00€ |
| Halo Wars 2: Icons Of War | 30% | $6.99 | – | – | – | – |
| Hawken – Starter Pack | 85% | $1.50 | £1.20 | $1.50 | $2.24 | – |
| Homefront: The Revolution Expansion Pass | 50% | $7.50 | £5.00 | – | – | 7,50€ |
| Island In The Sun" – Weezer | 15% | $1.69 | – | – | – | – |
| Just Cause 3: Air, Land & Sea Expansion Pass | 70% | $4.50 | £3.60 | $6.00 | $6.83 | – |
| Kinsano Leader Pack | 30% | $4.19 | £3.35 | – | – | – |
| Kombat Pack | 50% | $5.00 | – | – | – | – |
| Kombat Pack 2 | 50% | $10.00 | – | – | – | – |
| Kona | 50% | $10.00 | £8.00 | $10.00 | $13.48 | 10,00€ |
| Lara Croft And The Temple Of Osiris | 85% | $3.00 | £2.25 | $3.00 | $4.04 | 3,00€ |
| Lara Croft And The Temple Of Osiris & Season Pass Pack | 85% | $4.35 | £3.00 | $4.35 | $5.80 | – |
| Lara Croft And The Temple Of Osiris Season Pass | 85% | $1.50 | – | – | – | – |
| Legal Action Pending DLC – Day One Edition | 20% | $1.99 | £1.59 | $1.99 | $2.68 | 1,99€ |
| Legal Action Pending DLC – Digital Edition | 20% | $1.19 | £0.95 | $1.19 | $1.56 | 1,19€ |
| Legal Action Pending DLC – Retail Edition | 20% | $1.19 | £0.95 | $1.19 | $1.56 | 1,19€ |
| Lego Batman 3 Season Pass | 50% | $7.50 | £6.00 | – | – | – |
| Lego Marvel Super Heroes 2 Season Pass | 30% | $10.49 | £10.79 | $13.99 | $20.48 | 13,49€ |
| Lego Marvel's Avengers Season Pass | 50% | $5.00 | £4.00 | $6.00 | $7.48 | – |
| Lego Star Wars: The Force Awakens Season Pass | 40% | $5.99 | £4.79 | $5.99 | $8.97 | – |
| Liberty Pack | 50% | $1.50 | – | – | – | 1,50€ |
| Life Is Strange: Before The Storm Complete Season | 40% | $10.19 | £8.39 | $14.99 | $15.33 | – |
| Life Is Strange: Before The Storm Deluxe Edition | 40% | $14.99 | £11.99 | $20.99 | $22.80 | 14,99€ |
| Light & Dark Bundle | 25% | $22.49 | £17.99 | $22.49 | $29.96 | 22,49€ |
| Little Nightmares Secrets Of The Maw Expansion Pass | 40% | $5.99 | £4.79 | – | – | – |
| Madden NFL 18 G.O.A.T. Squads Upgrade | 75% | $5.00 | £5.00 | $6.50 | $7.49 | – |
| Madden NFL 18 Ultimate Team Starter Pack | 50% | $4.00 | £4.00 | $5.00 | $5.33 | – |
| Made Bundle | 85% | $1.50 | £1.20 | $1.50 | $2.02 | – |
| Mafia III Season Pass | 50% | $15.00 | – | – | – | – |
| Marvel Vs. Capcom: Infinite – Black Panther | 50% | $3.99 | – | – | – | – |
| Marvel Vs. Capcom: Infinite – Black Widow | 30% | $5.59 | – | – | – | – |
| Marvel Vs. Capcom: Infinite – Deluxe Edition | 25% | $44.99 | £37.49 | $56.24 | $68.21 | 44,99€ |
| Marvel Vs. Capcom: Infinite – Monster Hunter | 50% | $3.99 | – | – | – | – |
| Marvel Vs. Capcom: Infinite – Sigma | 50% | $3.99 | – | – | – | – |
| Marvel Vs. Capcom: Infinite – Venom | 30% | $5.59 | £4.54 | – | – | – |
| Marvel Vs. Capcom: Infinite – Winter Soldier | 30% | $5.59 | £4.54 | – | – | – |
| Marvel Vs. Capcom: Infinite Character Pass | 30% | $20.99 | – | – | – | – |
| Marvel Vs. Capcom: Infinite Premium Costume Pass | 30% | $20.99 | – | – | – | – |
| Middle-Earth: Shadow Of War Story Expansion Pass | 15% | $21.24 | £16.99 | – | – | – |
| Mighty No. 9 – Ray Expansion | 50% | $2.50 | £2.00 | – | – | – |
| Mighty No. 9 – Retro Hero | 50% | $1.50 | £1.20 | – | – | – |
| Minecraft: Story Mode – Adventure Pass (Additional Episodes 6-8) | 60% | $4.00 | £4.00 | $4.00 | $7.70 | 5,20€ |
| Minecraft: Story Mode – Season Pass Deluxe (Episodes 2-8) | 60% | $12.00 | £12.00 | $16.00 | $18.28 | 14,00€ |
| Minecraft: Story Mode – Season Two – The Complete Season (Episodes 1-5) | 50% | $12.50 | £12.20 | $16.75 | $21.98 | 14,50€ |
| NBA 2K18: 75,000 VC | 40% | $11.99 | £9.59 | $16.19 | $17.97 | – |
| NBA 2K18: 200,000 VC | 45% | $27.49 | £21.99 | $36.84 | $41.91 | – |
| NBA 2K18: 450,000 VC | 50% | $50.00 | £40.00 | $66.75 | $75.60 | – |
| Neverwinter: Adventurer Edition Pack | 35% | $12.99 | £10.39 | $14.29 | $17.52 | – |
| Neverwinter: Epic Edition Pack | 35% | $19.49 | £15.59 | $21.44 | $26.29 | – |
| Neverwinter: Starter Edition Pack | 35% | $6.49 | £5.19 | $7.14 | $8.74 | – |
| Payday 2 – Crimewave Edition – The Big Score DLC Bundle! | 50% | $20.00 | £15.00 | – | – | – |
| Payday 2 – Crimewave Edition – The Big Score Game Bundle | 50% | $25.00 | £20.00 | – | – | – |
| Portal Knights – Bibot Box | 25% | $2.24 | £1.79 | – | – | – |
| Portal Knights -Emoji Box | 25% | $2.24 | £1.79 | – | – | – |
| Portal Knights -Lobot Box | 25% | $2.24 | £1.79 | – | – | – |
| Project Cars 2 Season Pass | 40% | $17.99 | £14.99 | – | – | – |
| Raiders Of The Broken Planet – Alien Myths Bundle | 50% | $4.99 | £4.99 | – | – | – |
| Raiders Of The Broken Planet – Alien Myths Campaign | 50% | $4.99 | £4.99 | $6.39 | $7.47 | 4,99€ |
| Rock Band 4: China Cat Sunflower – The Grateful Dead | 15% | $1.69 | £1.35 | – | – | – |
| Rock Band 4: Free And Easy (Down The Road I Go) – Dierks Bentley | 15% | $1.69 | £1.35 | – | – | – |
| Rock Band 4: Free Bird" – Lynyrd Skynyrd | 15% | $1.69 | £1.35 | – | – | – |
| Rock Band 4: Hella Good – No Doubt | 15% | $1.69 | – | – | – | – |
| Rock Band 4: Island In The Sun – Weezer | 15% | $1.69 | – | – | – | – |
| Rock Band 4: (Sittin' On The) Dock Of The Bay (Take 2) – Otis Redding | 15% | $1.69 | – | – | – | – |
| Rock Band 4: Listen To The Music – The Doobie Brothers | 15% | $1.69 | £1.35 | – | – | – |
| Rock Band 4: No Rain – Blind Melon | 15% | $1.69 | – | – | – | – |
| Rock Band 4: Rain Is A Good Thing – Luke Bryan | 15% | $1.69 | £1.35 | – | – | – |
| Rock Band 4: Scarlet Begonias – The Grateful Dead | 15% | $1.69 | £1.35 | – | – | – |
| Rock Band 4: Sundial – Wolfmother | 15% | $1.69 | – | – | – | – |
| Rock Band 4: Sweater Weather – The Neighbourhood | 15% | $1.69 | £1.35 | – | – | – |
| Rock Band 4: The Sign – Ace Of Base | 15% | $1.69 | – | – | – | – |
| Rock Band 4: Three Little Birds – Bob Marley And The Wailers | 15% | $1.69 | – | – | – | – |
| Rock Band 4: Thunder – Imagine Dragons | 15% | $1.69 | £1.35 | – | – | – |
| Rock Band 4: You Make My Dreams – Hall & Oates | 15% | $1.69 | – | – | – | – |
| Rock Band 4 Rivals Bundle | 40% | $35.99 | £29.99 | $44.99 | $59.97 | 41,99€ |
| Resident Evil 7 Biohazard Season Pass | 40% | $17.99 | £14.99 | $23.99 | $26.97 | 17,99€ |
| Resident Evil Revelations 2 – Season Pass | 60% | $8.00 | £6.40 | $8.00 | $10.78 | – |
| Revolutionary Spirit Pack | 50% | $2.50 | – | – | – | 2,50€ |
| Rise Of The Tomb Raider Season Pass | 67% | $9.90 | £6.60 | $13.20 | $13.18 | 9,90€ |
| Rise Of The Tomb Raider: 20 Year Celebration | 67% | $19.80 | £14.85 | $26.40 | $28.03 | 19,80€ |
| Sergeant Johnson Leader Pack | 30% | $4.19 | £3.35 | – | – | – |
| Serina Leader Pack | 30% | $4.19 | – | – | – | – |
| Sherlock Holmes: The Devil's Daughter | 75% | $13.75 | £11.25 | – | – | – |